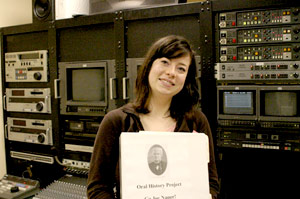 Proceed and Be Bold
Laura Zinger's documentary on Amos Paul Kennedy, Jr. is complete and gathering acclaim around the world. Visit 20Kfilms.com to see the trailer and order the DVD.
Laura Zinger has a Liberal Arts and Science's Bachelor's Degree in English Literature from the University of Illinois at Champaign-Urbana. Since then she has gained 5 years of video production experience, quickly developing the skills needed to make documentaries. She first met Amos Paul Kennedy Jr. when she worked at the University's Rare Books and Special Collections Library. Proceed and Be Bold will be the first hour long documentary she has independently produced. She and the team are working on others.
She is also the founder and director of
Pink Author
, a non-profit archive of letters and emails.