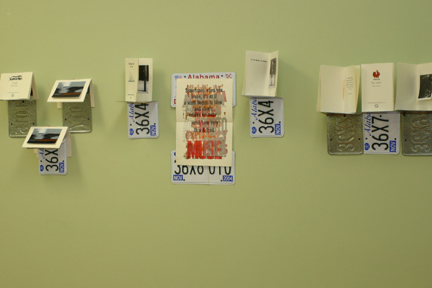 Alabama Photo Book Project
In 2003, Stephen Savage, Kim Pearson and Amos Paul Kennedy, Jr. began a collaboration of which the Alabama Photo Book Project is the fruit. Stephen Savage and Kim Pearson are professional photographers who have lived in Alabama for many years. Amos Kennedy is a letterpress printer who divides his time between Alabama and northern Italy. He recently moved his letterpress shop from York, Alabama to Akron, Alabama.
In Cameri, Italy where Amos has a bindery (Legatoria del Gallo Nero), Amos met Alberto Casiraghi, an artist who calls himself the Baker of Books because every day he publishes a small edition of hand-printed, hand-bound books which include an original piece of art. The two have produced several books together. Wanting to develop the concept of Casiraghi's work in the U.S.A., Amos sought out artists interested in developing a collaborative art project in Alabama. Stephen Savage and Kim Pearson brought together a group of Alabama photographers interested in combining their work with letterpress printing, and the Alabama Photo Book Project was born.
Each book contains a photograph and text selected by the photographer. At the Kennedy Prints letterpress shop, the texts were printed with wood and metal engravings on German-made Hahnemühle paper. The wood engravings are the work of Adriano Porazzi, who carves exquisite images in boxwood. The books were hand-sewn and each one is hand-decorated with watercolors. Each book is unique and part of an edition of 50.
Photographers in this exhibition include: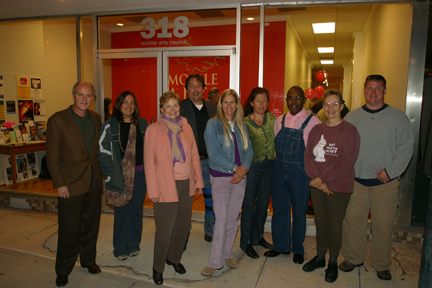 Kim Pearson
Stephen Savage
Pinky /MM Bass
Tom Loehr
Catt Sirten
Kelly Kleinschrodt
Keith Necaise
McLeod Turner
Susan Steber Kangal
Molly Dugan
Martha Davidson
Erin Hilburn
Mary Riser
Kristy Johnson-Snell
William Bunce
The show is on display at the Mobile Arts Council, 318 Dauphin St., Mobile, AL 36602, throughout the month of November.
Text by Elena Bertozzi, Ph.D.,
University of Wisconsin, Whitewater, Curator, November 2006