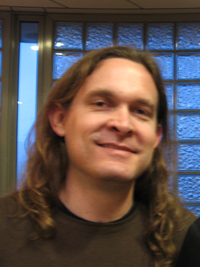 Jeff Herriott
As a composer, Jeff Herriott uses recording and computing technology to enhance and augment the natural sounds of instruments, with a goal of creating inviting aural spaces. His music has been played at music festivals and concert halls in the US and abroad, including the Royal Ontario Museum (Toronto), The Stone (NYC), Visiones Sonoras (Mexico), the International Computer Music Conference , and UK Microfest. Jeff has received awards and commissions including a McKnight Visiting Composers Residency, a Jerome Foundation Commission, and a MATA Festival Commission.
Jeff is currently an Associate Professor of Music at the University of Wisconsin at Whitewater, where he teaches courses in audio, multimedia, music technology, and composition. He completed the Ph.D. at the University at Buffalo (principal studies with composer Cort Lippe), having previously received degrees from Florida International University and Middlebury College.
Herriott mixed the voice recordings and composed the audio for the Colored! Rosa Parks and the Demise of Jim Crow project.